Contact Information: Juniper Meadow Ranch Bend Oregon Marty or Theresa Denham -
Telephone
541.312.3081
E-mail
General Information: info@junipermeadow.com
About us:
Trainers:
| | |
| --- | --- |
| | Theresa Denham- Specializing in show colt training (TWH) for futurity and shows,general colt training, gait training, bio-mechanics with horse and rider, show, trail and pleasure. All Breeds |
| | Caleb Biggs- specializing in starting colts, training 'troubled' horses with kindness and respect,roping, show, and trail training. ALL breeds |
Facility :
43 acres of irrigated pastures
Indoor arena ~ well lighted 72 x 120
60 foot round pen
150 x ~250 outdoor riding arena
Borders Bad Lands for miles and miles of riding
We are in Bends east side "warm belt' so we have less ice than other local areas for year round riding.
Boarding - Boarding is prioritized to customers who have previous horses in training, horses waiting to go into training, and our lesson clients Email to get on Waiting list
Board includes 12 x 12 matted stalls over gravel cleaned daily, use of wash-rack (hot and cold) ,daily turnout, blanket on/off during inclement weather, feed of high quality hay, alfalfa and LMF feeds. Use of indoor arena, outdoor arena, round pen and riding access to BLM for year round trail riding.
Lessons
Instructors: Theresa Denham, Ashley Denham
For more detailed lesson information please go to our Lessons page
For general information- please read below.

We offer private riding lessons and semi private lessons. Meet our instructors: $40.00/lesson private + $5.00 to use our horses
Theresa Denham, ARICP certified in 1997. She teaches classical fundamental techniques to her riders. This prepares them for dressage, English, Western, jumping and trail riding.
She teaches through the second level, western, jumping and saddle seat on gaited horses. Theresa specializes in helping the rider understand biomechanics of horse and rider. This in turn develops a secure seat, kind hands, and excellent use of natural riding aids. She teaches the riders to use their body to communicate with the horse, so that both horse are rider feel secure. Theresa also teaches you to handle and show your weanling, yearling and halter horse. To inquire about lessons with Theresa click here
| | |
| --- | --- |
| Theresa at the IE Celebration 'A' Show with Beams Dr. J. | A students success in the show ring. |
Ashley Denham has been riding since she was two years old. Not only has she spent numerous hours on the trail, and in learning environments, she has also been highly successful in the show ring with horses she started, trained and showed. Her teaching began in 1996, and she specializes in building a solid foundation on the beginner rider. She teaches beginner lessons in english and western, solidly developing the techniques which will allow students to excel in any riding disciple they choose. To inquire about riding lessons with Ashley please click this line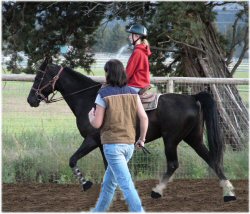 For more lesson information and more photos of our students please go to our Lessons page
---
Training - Training schedule is filled for the remainder of 2008 Show season. 1 opening coming Fall of 2008 . Deposits of first month training will hold your fall spot now.
Our training program is tailored to suit your needs. Goals will be discussed and the program will be custom tailored. Theresa also specializes in gait issues, bitting and saddle issues, and behavioral issues with your horse.
Basic fees for training are $725.00 per month which includes your board, one lesson a week, training 5 days a week and high quality feed. Early bird discount of $50.00 given when bills are paid in full by the 10th of each month.
Show: We start, train, finish and show. Riders will also have the opportunity to show their own horses as much as they would like. Our goal is to train YOU and your horse for success in the show ring. All horses that are started here will have outdoor trail time when under saddle. This is important for building confidence and clearing their mind whether for show or trail. Our riders gain satisfaction of gaining skills to do it themselves at both A shows and local fun shows


A FIRST blue ribbon at a local Gaited Horse show in May

First show for Reine, an "A" circuit TWH show in Eugene Oregon,
Congratulations on your 5th place championship!

Second show for Jackie, an "A" circuit TWH show in Eugene Oregon,
Congratulations on your 3Rd place championship!

Trail: For those interested in a trail horse only, we cover many miles with your horse. Our goal is to work with your horse through and around obstacles, and give him the experience he needs to be a safe, sound trail horse. Depending on his age this process may be completed at our facility, or it may be a 'work in progress'. 1 Weekly lesson and a minimum of 2 trail rides with the owner are included in this package.

A student working through an obstacle of 'scary branches'